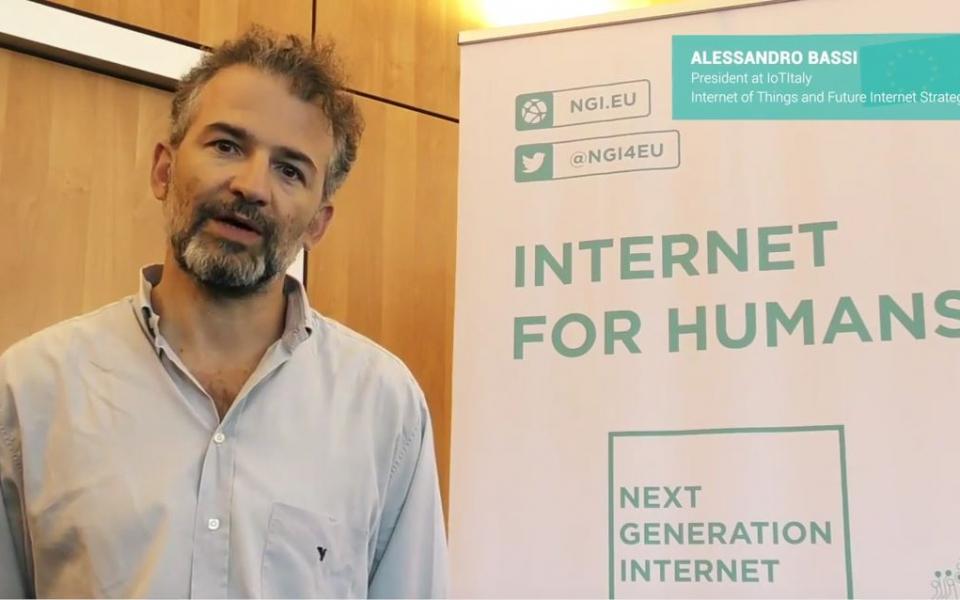 Alessandro Bassi is President at IoT Italy – Internet of Things and Future Internet Strategy Expert and one of the Champions of the NGI Programme. In this interview, during the NGI Forum in Porto, Portugal, in September 2018, Alessandro talks about the main challenges that internet needs to face when dealing with Internet of Things.
---
What technology are you bringing to the NGI scene? How is it going to influence the internet panorama?
"The technologies that we are bringing towards the Next Generation Internet are IoT – which means connected objects – and Networking and Distributed Data (how to distribute, place, retrieve and move data in the network in the best possible way). How will they influence the internet panorama? For what concerns IoT, we are talking about objects that are performing a task: a huge change needs to be performed at business level, changin the business models behind IoT, because we will be rather buying services, than owning objects.
For what concerns data transfer, although it was claimed there is too much data, the situation is still under control: what is really important to store and transfer data faster, is to optimize what we have today by investing in backbone and infrastructure, which can be reused and still lead to very good results".
What emerging internet challenges would you like to see supported by H2020 programmes?
"I would like to find more research on infrastructure, fast protocol transfer and the different aspects of security and privacy related especially to IoT as well as the new Fog and Edge Computing Paradigms. The NGI, which is the evolution of the current internet, will have a very different architecture, less hierarchical, more dynamic and closer to the Edge . There will be less content transferred from very different locations, instead, we will develop algorithms that will exploit geographically closer content.
What's the main challenge that internet needs to face when dealing with content production, management and sharing?
"The problem with the fake news is mainly a problem of trust: there are several perspectives on what can be, or not be considered as a trusted source. Even when we can clearly prove a source to be false, it is hard to think of an automatic mechanism to avoid content from that source. The first solution could be education on a large scale and available to everybody, on how to discern good and bad information. A second one, could be finding an automatic way of trusting different sources, although untrusted sources could simply change the source of the information, so it is hard to stop them".
If we thought about something more drastic and global as a third solution, we should also consider the risks of falling into a "dictatorship of the internet" when excluding countries or autonomous systems."