TARIQ SARAJ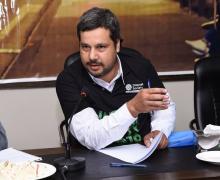 Main profile
Organisation name:

Riphah Institute of Systems Engineering, Riphah International University

Early Adopters Selection Criteria:

IT and Network Operators, Service Providers

Which of the following NGI values are you championing?:

Control over personal data. Value extraction from protected personal data

Privacy-by-design approaches. Privacy-aware tools

Security-by-design approaches. Trust models. Cyber security best practices

Interoperability and standardisation. Interoperability testing. Key enabling technologies: 5G, IoT, cloud, big data, cyber security

New applications and services across industry verticals and public sector. Socio-economic impacts

Innovations for creativity, culture, education and research (also NGI Award winners)
Badges

Early Adopters
Short Description:

I am joining this community in my individual capacity. I have been actively working on draft in one of the working group of IETF termed as DNSOP. I have recently attended a session of GCSC in IETF 102 in Montreal and I came to this site referral source after a hard search online.
I am actively working on research-based projects at my Institute in cybersecurity domain, as well as I am teaching the Network Security and Applicaiton Security subjects since last two years at the same Institute at master level.

NGI solution(s) used by your organisation:

My organization is an institute that has degree level programs for MS and PhD students in cybersecurity domain.
History
Member for

5 months 3 weeks