Antonio Jara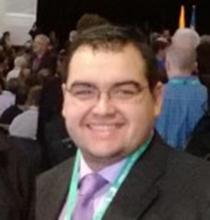 Main profile
Professional title:

CEO/Managing Director/Chief Executive

Organisation type:

Small and Medium Enterprise

Early Adopters Selection Criteria:

Hi-tech Start-ups & SMEs

Representatives from Standards Organisations

Which of the following NGI values are you championing?:

Human-centric. Citizen co-design. Participatory. Communities using environmentally-friendly and sustainable resources, e.g. energy

Interoperability and standardisation. Interoperability testing. Key enabling technologies: 5G, IoT, cloud, big data, cyber security
Badges

Early Adopters
Short Description:

Antonio J. Jara (CEO), founder of HOP Ubiquitous S.L. (www.hopu.eu), co-chair of the IEEE Communications Society Internet of Things Technical Committee, and adjoint scientifique in the University of Applied Sciences Western Switzerland. He did his PhD (Cum Laude) at the University of Murcia (UMU), Spain. These PhD results present a novel way to connect objects to Internet-enabled platforms in an easy, secure and scalable way. He also carried out a MBA and entrepreneurship formation in the ENAE business school and UCAM (2012). He received entrepreneurship awards from ENAE (sponsored by SabadellCAM financial services), emprendeGo (sponsored by Spanish government), IPSO Alliance Award (Sponsored by Google) for its disruptive innovation in the IoT, selected and mentored by the acceleration program FABULOUS (part of the FIWARE EU project). Antonio Jara as part of HOP Ubiquitous is focused on the Smart Cities market with solutions for citizens engagements, tourism, active participation, physical web and environmental monitoring (air quality sensors). Antonio Jara has also participated in over 100 international events about Internet of Things as Speaker, over 100 international publications / papers (~3200 citations and impact factor h=31), he holds several patents in the IoT domain and finally he has advised in the IoT domain to companies such as Microsoft and Fujitsu. He is very focused on standardization activities leading this for EU projects such as BEinCPPS & MIDIH in the domain of industry 4.0 / IoT and ACTIVAGE about data management / IoT. He is active member in OMA NGSI / LwM2M for scalable devices management, ETSI ISG CIM about data models for context-based solutions, ITU-T SG20 IoT & Smart Cities as editor for interoperable data management and privacy. At the same time, that he contributes in IEEE to emerging standards such as IEEE PAR2510 for data quality. Antonio Jara main ambition is to contribute to data economy through trust, reliability, interoperability and scalable data management. For that reason, he actively has lead several standardization activities in the described bodies as also in EU actions as IERC WG02 about semantic interoperability, AIOTI for synergies about standardization in IoT-EPI and ENISA about IoT security.

NGI solution(s) used by your organisation:

HOP Ubiquitous has created Smart POI, an immersive communication channel based on IoT for events, tourist destinations... that allows geolocalized and personalized content for users. This solution consists of an IoT device, called Smart Spot, which allows a push notification via Bluetooth and WiFi to be sent to the user's smartphone which gives access to a Web App on the POIs where videos, photos can be viewed without the need to install any application. This channel has been created to disseminate a new type of content created by the citizens themselves. The App is a digital space of co-creation where users can upload information about each POI in the physical areas, for other users, exchanging information about areas in different formats such as videos, photos…The videos are uploaded assigning a specific hashtag and the content that is disseminated does not last more than one minute.
This allow you to live a tourist experience in a different way where the past meets the future, it allowing to live a physical and digital experience at the same time. In addition, the device, Smart Spot, collects quantitative and qualitative data to construct metrics that allow monitoring the impact of the city in terms of air quality (NO2, SO2, O3, CO, H2S), noise pollution, environmental impact (temperature, humidity) and crowd-monitoring (counting people at a specific point via WiFi). These metrics provide baseline knowledge that well taken advantage of by City Councils or other public institutions can be useful for decision making regarding particular measures for the city. Additionally, it will allow the development of strategic plans towards a more sustainable development including transversal actions in mobility, urbanism, entertainment, public health, welfare, security, among others.

Therefore, HOP Ubiquitous is innovating about immersive experiences, IoT/5G, advanced sensing capabilities, edge computing and new ways to communicate with people and monitor the environment. All the solution is integrated with FIWARE and compliant with Open Internet Standards.
History
Member for

2 months 2 weeks